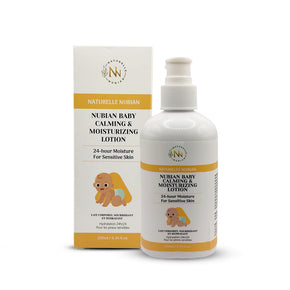 $19.99
A MUST-HAVE for all moms. Provide 24-hour moisture and calm your baby's skin with naturally hydrating and calming ingredients like shea butter and oats. Helps prevent and temporarily protect your...
$16.99
NUBIAN BABY SOOTHING MASSAGE OIL Huile Bio Apaisante PH neuter | 150ml With each gentle and nourishing stroke, your baby will feel nurtured and loved, strengthening the bond between the...
$16.99
NUBIAN BABY GENTLE WASH & SHAMPOO with Chamomile gently cares for your baby's sensitive skin. Chamomile helps soothe irritated skin, redness, itching, and common skin conditions in infants. Chamomile is ripe with...